07 August 2023
JOINT STATEMENT
Premier and Minister for the Olympic and Paralympic Games
The Honourable Annastacia Palaszczuk
Treasurer and Minister for Trade and Investment
The Honourable Cameron Dick
Minister for Housing
The Honourable Meaghan Scanlon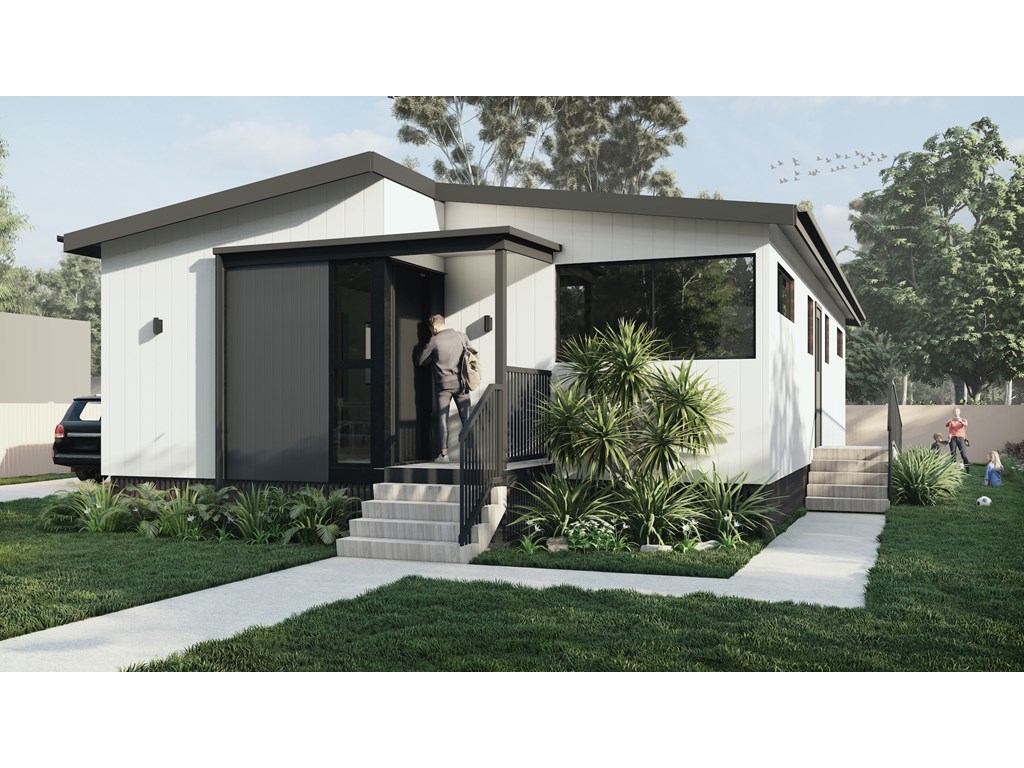 Modular Home Prototype Artist Impression
Gold Coast manufacturer ModnPods to produce up to 200 modular pods from new 6,200 square metre Arundel factory
Growth accelerated 12 months on from Queensland Government investment through Business Investment Fund, creating more than 80 local jobs over the first three years
Previous 16-week build time reduced to 32 days with the opening of the new factory and now operating at a 24-day turnaround – seeing a brand new pod leaving the factory every 3 days
Premier Annastacia Palaszczuk and Treasurer Cameron Dick joined the ModnPods team today to officially open a new modular pod factory in Arundel on the Gold Coast.
The uplift in manufacturing capacity was made possible by an investment in ModnPods from the Palaszczuk Government through the $100 million Business Investment Fund, managed by Queensland Investment Corporation.
In just one year, ModnPods have quadrupled their space, tripled their workforce, are increasing production tenfold and reducing build times by 70 per cent.
Up to 200 pods will roll off the ModnPods production line in the year ahead, including some purpose-built government employee housing.
The ModnPods homes will complement the work by Queensland's QBuild Rapid Accommodation and Apprentice Centre in Eagle Farm, as part of the Methods of Modern Construction program.
Quotes attributable to Premier Annastacia Palaszczuk:
"Challenges in traditional construction supply chains and workforce are being felt across the country, but where people see challenges, Queenslanders see solutions.
"ModnPods are changing the game in delivering modular housing solutions, with their new facility scaling production from 20 to 200 pod homes every year.
"Through the investment, ModnPods are producing homes faster, which is what we need to see in order to meet current demands.
"It's also terrific to see local manufacturing back on the Gold Coast and the 36 jobs already created through our investment, with a further 50 jobs expected by next year."
Quotes attributable to Treasurer and Minister for Trade and Investment Cameron Dick:
"Queensland Investment Corporation's $100 million Business Investment Fund was established to help Queensland businesses like ModnPods grow, take advantage of exciting commercial opportunities and create more local jobs.
"The investment in ModnPods allowed it to expand, triple its workforce and increase its production of pods from 20 to 200 a year. 
"Since being introduced, the Business Investment Fund has invested more than $60 million into 11 companies, creating more than 230 jobs."
Quotes from Housing Minister and Gaven MP Meaghan Scanlon:
"When we back and invest in Queensland businesses it means they can deliver more for Queensland – including new homes to help tackle national housing pressures.
"ModnPods is just one of many businesses in our state we've engaged to build 100 social and government employee homes by the end of this year.
"Through the Treasurer's Business Investment Fund, we've seen a proud Gold Coast business scale-up their capacity, employ more workers, and this week get stuck into building government employee homes.
"Working with innovative builders like ModnPods is just one of the ways we're pulling every lever to build more affordable and social homes as part of a record $5 billion investment."
Quotes attributable to Minister for Public Works and Procurement Mick de Brenni:
"By using prefabrication facilities, Queenslanders get the triple benefit of mitigating issues with traditional builds like weather, scheduling, and workforce availability.
"Through this initiative, we can deliver homes more quickly with better value for money, while tapping into existing hubs of highly skilled tradespeople and training the next generation of construction workers."
Quotes attributable to ModnPods Managing Director Stuart Giles:
"We're delighted that ModnPods is contributing to the provision of solutions in the housing affordability space whilst supporting growth in local employment opportunities across the manufacturing and tourism sectors.
"The opportunity to showcase the talents and skills of our Queensland workforce to deliver innovations that are driving this spectacular growth story, is something we feel privileged to have and we're proud of our achievements to date."
"We are excited to see what the future will bring as further innovations and initiatives see us move to full capacity in this new factory and begin exploring where our next great Queensland production facility might be located as part of our ongoing commitment to be part of the provision of housing affordability solutions."
ENDS
Media contact
Courtney Thompson (Premier's Office) – 0433 585 570
Campbell Gellie (Treasurer's Office) - 0433 987 744
Francis Dela Cruz (Housing Minister's Office) – 0420 592 078
Andrew Churchill (Public Works Minister's Office) - 0472 645 871