24 July 2023
JOINT STATEMENT
Premier and Minister for the Olympic and Paralympic Games
The Honourable Annastacia Palaszczuk
Minister for Health, Mental Health and Ambulance Services and Minister for Women
The Honourable Shannon Fentiman
Minister for Housing
The Honourable Meaghan Scanlon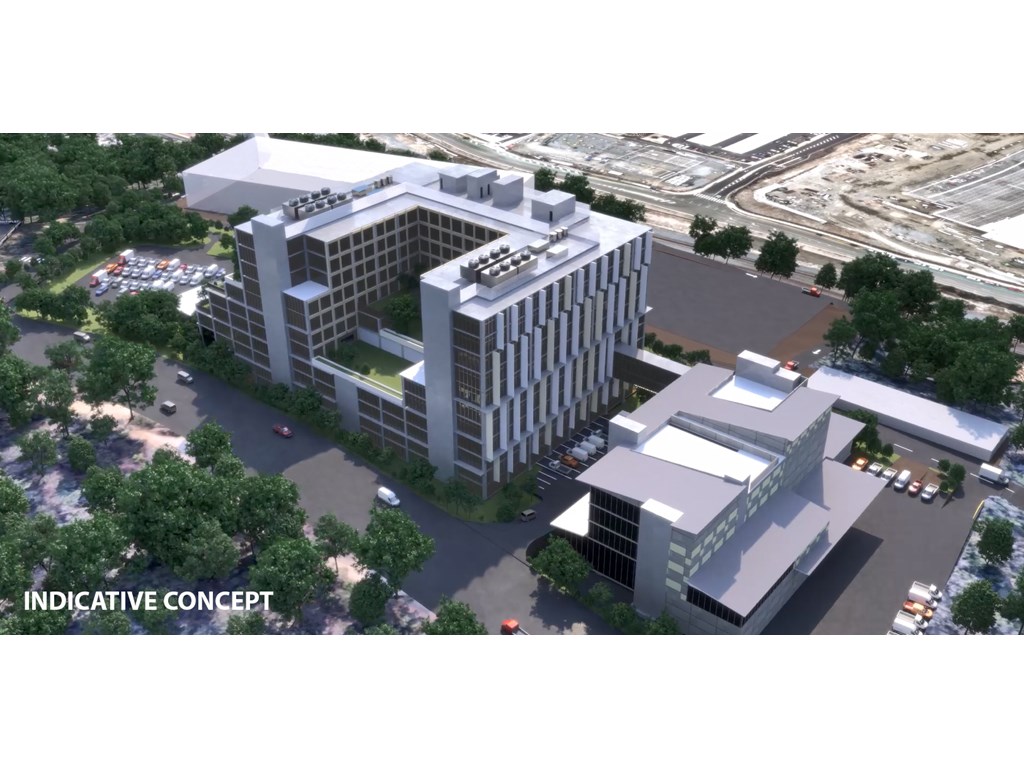 Palaszczuk Government releases Coomera Hospital artist impressions, giving a glimpse into what the facility will look like.
Multiplex Constructions was awarded the tender to lead the design stage of the $1.3 billion hospital project in June.
The hospital will deliver 404 new beds for the Gold Coast region, which is expected to be complete in 2027.
The Palaszczuk Government has today released artist impressions of the Coomera Hospital – demonstrating what the Northern Gold Coast can expect of the new facility.
The project is now in the design phase, following the announcement of Multiplex Constructions as the successful tenderer.
The new hospital will deliver 404 new beds for the Gold Coast region, including surgical, medical, ambulatory, sub-acute, emergency and mental health treatment facilities.
Northern Gold Coast residents can also expect a satellite medical imaging department, as well as new operating theatres, endoscopy rooms, birthing suites and consult rooms.
Speciality services will also be available at the Coomera Hospital including Intensive Care, Coronary Care and a Special Care Nursery.
Quotes attributable to Premier Annastacia Palaszczuk:
"This critical health care infrastructure will transform the Northern Gold Coast and give residents access to the services they need closer to home.
"The big build will also create 3,100 local jobs during constructions, which is huge for the local economy."
Quotes attributable to Health Minister Shannon Fentiman:
"Queensland's Big Build is coming to Coomera and we know this hospital is absolutely critical for this evolving community.
"It's fantastic to see the next step of this $1.3 billion project underway. 
"This project will deliver 404 new beds, including surgical, medical, ambulatory, sub-acute and mental health inpatient beds for residents of the Northern Gold Coast."
Quotes attributable to Gold Coast based Palaszczuk Government Minister Meaghan Scanlon:
"The Gold Coast is growing – which is why we're delivering more hospitals, more beds and more frontline staff.
"It's only the Palaszczuk Government that committed to building a new hospital at Coomera.
"This is one of many health projects the Palaszczuk Government has committed on the Gold Coast thanks to the $2.1 billion health investment announced in the Budget.
"It joins the Gold Coast university Hospital sub-acute expansion, Gold Coast Secure Mental Health Rehabilitation Unit with 40 beds, Tugun Satellite Hospital and expansions to Robina Hospital that will deliver 134 new beds."
ENDS
Media contact: Emilia Hutchinson - 0437 060 435